REGULADOR DE TRANSFORMADOR DE 5 FASES 230V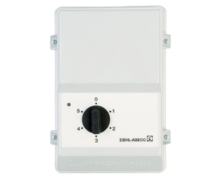 Regulator to regulate the speed of 1~230V voltage adjustable fan motors.
Especificaciones:
Opción a conectar varios ventiladores con el máximo conexión de corriente.
Clase de protección IP54
Regulador de 6 opciones, incluyendo apagado.
Luz de operación color Verde;
Opción a conectar un termostato ambiente y/o termostato guia.
Opción a controlar válvula de aire por medio de contacto de conmutación max. 2A
Protección del motor por medio de termo contactos (no para PTC).  El regulador se apaga automáticamente en caso de sobre carga.
No. Código:
6A (0616186)
6A (3003096: Ecofan W142)
12A (0616188)
12A (3003097: Ecofan W142)
14A (0616189)